Reading Time:
2
minutes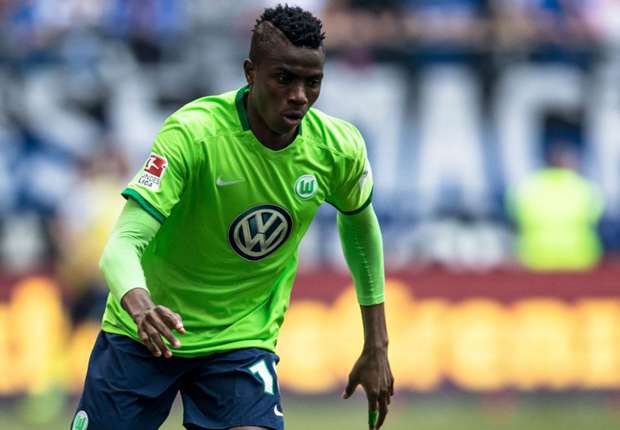 It is almost a year since Nigeria's Victor Osimhen arrived Wolfsburg, and based on his statements in a German paper, Wolfsburger Nachrichten, Osimhen still has big dreams.
Osimhen is satisfied with his personal development, like his adjustment to training and the coming winter. He witnessed his first winter last year fresh from Ultimate Strikers academy in Nigeria to Wolfsburg."I know what to expect. To witness snow, in reality, was an unusual feeling."
Taking a look back at his first days in Wolfsburg, he says"I was well received, especially from Joshua Guilavogui(teammate).I have never been to Europe for a long time and have had many wonderful experiences over the past few months. I feel good here."
The U-17 world cup top scorer decided to play for Wolfsburg because he saw better chances to develop."I am learning how football in Europe functions." However, he is not totally satisfied,"I did not achieve all the goals I had set myself."
Osimhen had wished for more appearances in the Bundesliga, one or two goals in the statistics in his first months. "Sometimes you plan something, but then it does not work out that way. I'll keep going on with my work."
Osimhen has to contend with strong competition from the likes of Divock Origi and captain Mario Gomez.He says, "I know my qualities and know how to help the team. But I'm in no hurry at all. I am patiently waiting for my chance. And when it comes, I want to grab it."
Osimhen wants his chance as soon as possible because he dreams of the World cup with Nigeria. "If I improve, I could get a call." He admits that he is in regular contact with the coach of the Super Eagles, Gernot Rohr.
He dreams of a great career, wants to make himself indispensable, and promises to fight on, "If I stop working hard, my dream will surely die. But if I give everything every day, I 'll go where I want to go. I want to make the people who believed in me proud ", he says.
Osimhen remains positive and believes hard work pays. Given the competition in Wolfsburg, his orientation is quite interesting. because it is easy to be negative and forceful with his goals, and in the process, it will derail his ambition. Osimhen has the right character as a professional to survive any obstacle that comes his way. And in the long run, it will eventually pay off.